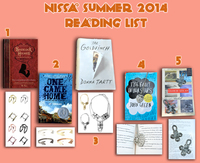 Summer has finally arrived, and we're enthusiastic to share our jewelry-inspired reading list with you! We send good vibes and cool reads for these next few months.
The Sherlock Holmes Series (Sir Author Conan Doyle), inspired by the Beatrice Double Band Ring

.A series of adventures that follow the detective, the book follows Sherlock Holmes and his assistant, Dr. Watson as they tackle mysteries that others cannot solve. The emphasis on puzzles and clues was inspired by the Beatrice Double Band Ring, which contains similar qualities.Sir Author Conan Doyle's masterpiece is our throwback book of the summer.

One Came Home (Amy Timberlake), inspired by the Arrow Cuffs

Following her sister's disappearance, a young girl embarks on a journey across the Midwest to bring her back and braves various hardships along the way, making it an ideal adventure tale for children. We chose this book as a tribute to our Arrow Cuffs, which embody the themes of finding the path home and unquenched wanderlust.

The Goldfinch (Donna Tartt), inspired by the Andie Necklace

One of the most popular books of the year and winner of the Pulitizer Prize, The Goldfinch traces the tragedy regarding a young boy and the catastrophic relationship that he develops with a painting that he steals. The Andie Necklace, which is a visual tribute to the 1960s Pop Art movement, served as our inspiration for choosing this book to read this summer.

The Fault in our Stars (John Green), inspired by the Arabella Pendant Necklace

A teenaged girl suffering from cancer develops an impacting relationship with a charismatic boy, and her world is changed in ways that she could have never foreseen. Arguably the most popular book of the summer, our choice of The Fault in Our Stars was inspired by our Arabella Pendant Necklace, which contain a similar whimsical and star-like quality that the story provides.

Cloud Atlas (David Mitchell), inspired by the Ursula Earrings

Several characters that live centuries apart are linked through six common storylines that range from the boat docks of the late nineteenth century to the wreckage of a futuristic society. Written from a series of diverse voices, the book is a reminder of the commonalities that we share on a global and chronological scale.To represent the connections and loops on this scale, we selected the Ursula Earrings as our inspiration.